Sisters in STEM will be virtual this year!
Hello!
Thanks for your interest in our SiS Program. We are happy to share that we will have a VIRTUAL experience, where we will mail/ship/drop off supplies for hands-on activities to you/your school ahead of time so you can have a hands-on experience.
Mark your calendars: Thursday March 31, 8:00 AM - 2:00 PM via Zoom
About Sisters in Stem
Traditionally, Sisters in STEM is a one day conference for underrepresented, tenth grade high school female students to show the allure of science, technology, engineering, and mathematics (STEM) fields. Representative role models lead laboratory tours, engaging experiments, and self-development workshops.
This program is proudly sponsored by UConn's Engineering Ambassadors and the Vergnano Institute for Inclusion.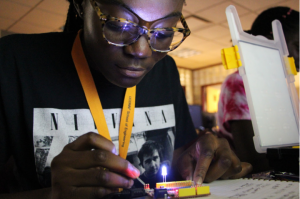 "I was able to stand on the shoulders of those women who came before me,
and women who came after me were able to stand on mine."
- Christine Darden
Research suggests that it is beneficial for students to see themselves represented in science and engineering fields to better the chances of them pursuing STEM careers. Underrepresented women are the minority of the minority in these fields. The Sisters In STEM conference provides students the opportunity to develop a stronger sense of self in being supported by UConn graduate, undergraduate students, and professionals in STEM.
During the conference, you'll have the opportunity to participate in:
Engaging STEM demonstrations and activities
Self-development workshops,
All led by some of the brightest undergraduate STEM womxn on campus, and a whole lot more!!!
Additionally, there is no cost to attend the conference.