About Sisters in Stem
Traditionally, Sisters in STEM is a one day conference for underrepresented, tenth grade high school female students to show the allure of science, technology, engineering, and mathematics (STEM) fields. Representative role models lead laboratory tours, engaging experiments, and self-development workshops.
This year, the UConn Engineering Diversity and Outreach Center is proud to host the 2nd Sisters in STEM Conference as a two-day virtual conference for 10th grade underrepresented minority females AND a track for high school teachers!
Saturday November 7, 2020 AND Saturday November 14, 2020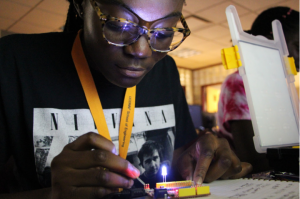 "I was able to stand on the shoulders of those women who came before me,
and women who came after me were able to stand on mine."
- Christine Darden
Research suggests that it is beneficial for students to see themselves represented in science and engineering fields to better the chances of them pursuing STEM careers. Underrepresented women are the minority of the minority in these fields. The Sisters In STEM conference provides students the opportunity to develop a stronger sense of self in being supported by UConn graduate, undergraduate students, and professionals in STEM.
Registration starts at 8:30 AM and the program runs from 9:00 AM to 2:00 PM. Participants will attend a laboratory tour and exciting STEM workshop, led by UConn graduate and undergraduate students. In the afternoon, the students will attend two self-development and growth workshops. The workshops are intended to help students see the power of their presence and various opportunities they have guided by professional women in STEM.
Student Registration
10th grade womxn! This year, we are proud to two separate days of programming for Sisters in STEM! During the two-day conference, you'll have the opportunity to participate in:
Engaging STEM demonstrations and activities
Self-development workshops,
All led by some of the brightest undergraduate STEM womxn on campus, and a whole lot more!!!
Additionally, there is no cost to attend the conference. Register Now!
Teacher Registration
Teachers! This year, we are proud to host a separate session FOR YOU in order to provide you with:
information and resources regarding UCONN's admissions process
strategies and tools to help you prepare your students to be competitive candidates for college and engineering admissions
opportunities to network with other teachers in CT
We thank teachers for their feedback during last year's conference, which contributed to the creation of this new track. Register Now!
Photo Consent Form
Participants will require a signed consent and photo release form, to be submitted when participants fill out the application.