We're Hiring!
Are you a woman studying at the UCONN School of Engineering? We're looking to hire SPARK counselors who want to empower the next generation! Staff must take a one-credit course during Spring 2023 and are required to live and work at UCONN from June 29th-August 5th. Fill out the form below to stay in the loop regarding info sessions and job applications.
About SPARK
If you are a current 6th through 9th grade female student, the University of Connecticut invites you to challenge yourself by incorporating your math and science skills into hands-on projects and experiments, exciting engineering concepts, and fun activities.
SPARK is UConn's latest initiative to shrink the STEM gender gap. Participants will be taught and mentored by outstanding female undergraduate engineering students.
SPARK 2022 In person!
SPARK 2022 will now be in person!
Eligibility: Must be a current 6th - 9th grade female student during the 2021 - 2022 school year.  Applicants who are not in the grade range but are interested in the program are encouraged to apply to be placed on the waiting list
The program cost is $995 per week/session (full and partial financial aid is available!!).
Cost should not be a barrier to attend, please apply!!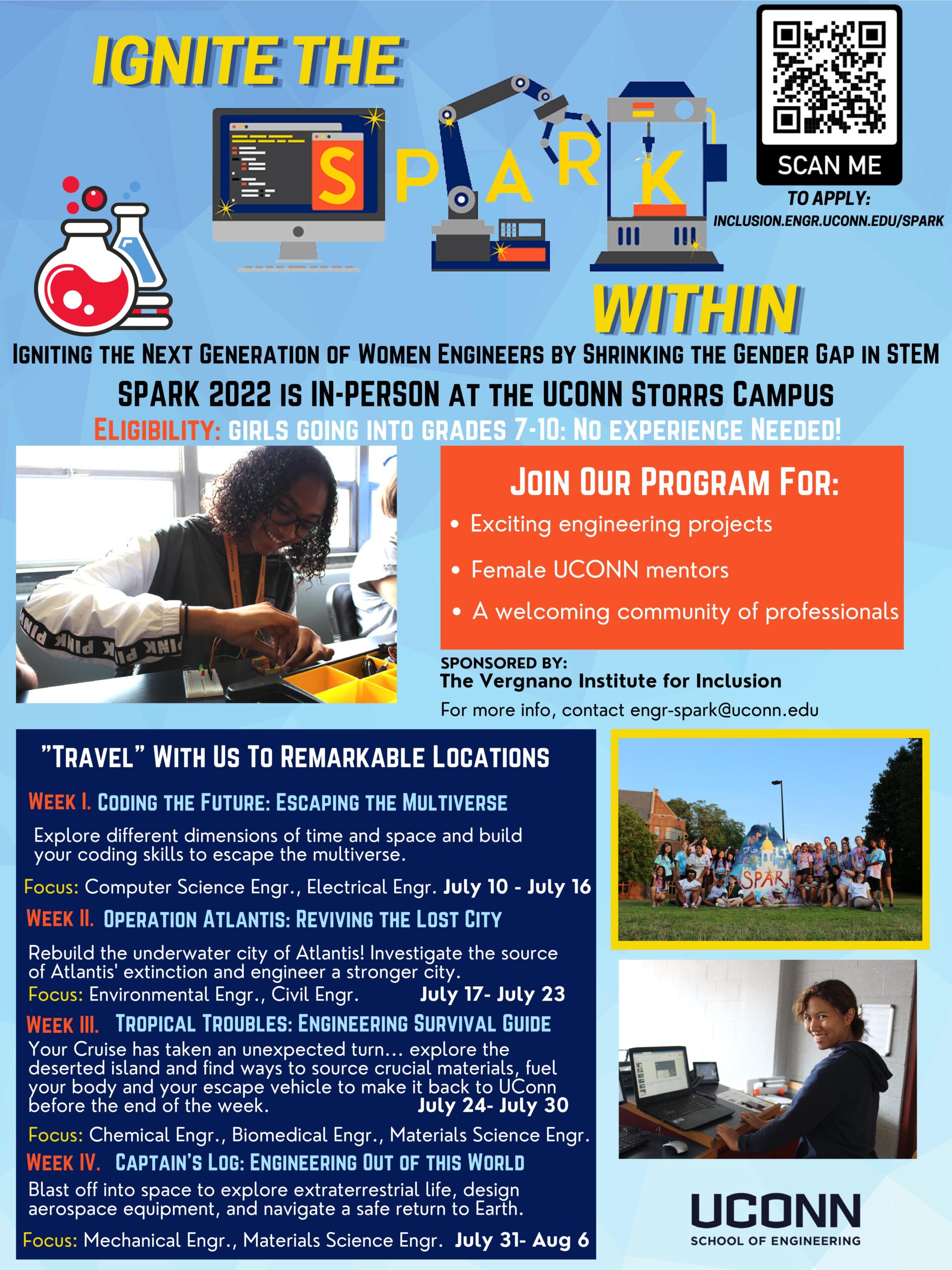 SPARK Activities
(This is the same text as above and is included below for accessibility)
This year's overarching SPARK theme: Destinations!
Coding the Future: Escaping the Multiverse (July 10 - July 16)

Explore different dimensions of time and space, and build your coding skills up to escape the multiverse!
Focus: Computer Science & Engineering; Electrical Engineering

Operation Atlantis: Reviving the Lost City (July 17- July 23)

Rebuild the underwater city of Atlantis! Investigate the source of Atlantis' extinction, design underwater robots, and engineer a stronger city.
Focus: Environmental Engineering; Civil Engineering

Tropical Troubles: Engineering Survival Guide (July 24 - July 30)

Your cruise has taken an unexpected turn! Explore the deserted island and find ways to source crucial materials, fuel your body, and design your escape vehicle to make it back to UConn
Focus: Chemical Engineering; Biomedical Engineering; Materials Science & Engineering

Captain's Log: Engineering Out of This World (July 31 - August 6)

Blast off into space to explore extraterrestrial life, design aerospace equipment, and navigate a safe return to Earth.
Focus: Mechanical Engineering; Materials Science & Engineering
Students will be encouraged to have fun while learning, and to learn while having fun. No prior experience is required.