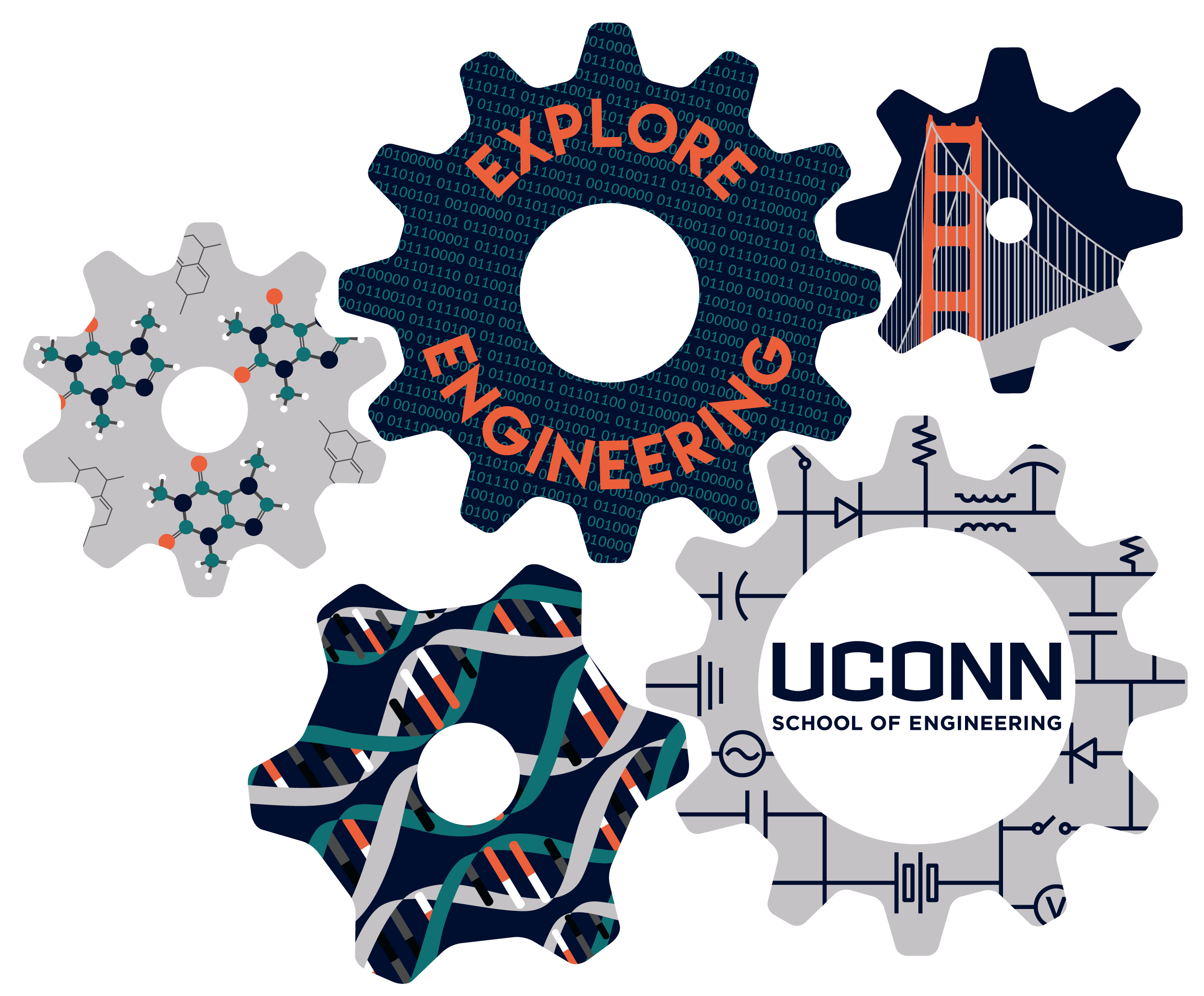 Frequently Asked Questions
Application Process
When will I know whether the program will be in-person or virtual?
Our goal is to get you this information as soon as possible so that you can plan your summer 2021! As of now, we are waiting and adhering to University of Connecticut and State of Connecticut guidelines to COVID-19. We will announce our camp modality by May 15th at the very latest, and will update the website as soon as we receive guidelines and regulations.
We anticipate if the camp is in-person, all rooms will be single occupancy, and all participants and staff will wear mask at all times (outside of their dorm room). We will follow social/physical distancing protocols and sanitation guidelines, as of course safety is our number 1 priority.
We encourage you to apply before our April 30th deadline. If the final modality of our program no longer works for you, we are happy make accommodation.
Who is eligible to apply to the program?
Explore Engineering (E2) is open to current *sophomore and junior students in high school. (*during the 2020/2021 school year)
Does this program accept home-schooled students?
Yes, we accepted home-schooled students into the program as long as they meet the criteria (current sophomore or junior) and their application is fully completed.
Is this program open to international students?
Yes, Explore Engineering is open to international students as long as they meet the criteria (current sophomore or junior) and their application is fully completed.
What documents do I need to submit with my application?
Statement of Interest (online)
Parent Consent Health Services Treatment and Conduct Agreement (online)
How competitive is the application process?
Explore Engineering receives an average of 300 applications each year. Enrollment is restricted to 125 students in each session.
*Enrollment cap may change due to COVID-19 guidelines/restrictions.
Is there an application fee?
No, there is no fee to apply for Explore Engineering.
Is Explore Engineering an actual UConn program, or, a third party program offered on the UConn campus?
Yes, Explore Engineering is an UConn School of Engineering sponsored program.
Who teaches this program?
This program is taught by individuals from different departments in the School of Engineering. When students are attending departmental activities during the day, they will be participating in both lecture and hands on experiment based activities run by the department's professors, graduate assistants, and/or undergraduate students. Throughout the day students will also learn from constant interactions with their counselor, who is a current UConn engineering undergraduate.
When should we expect to hear about any decisions regarding admission to the program?
Decisions regarding admission will NOT be made until the application process is closed. You will received notification of your status within 3-5 weeks after the application deadline. The application deadline is April 30th, 2021.
How are applicants notified?
Applicants are notified via email to main email address (which was submitted on your application). Please add our email address (engr-explore@uconn.edu) to your contact list to ensure that you receive emails from us. Also, please check your junk mail or spam folder prior to contacting our office if you haven't received any notification from us after the application deadline.
Payment
What is the cost of attending the program?
The program fee is $700. This covers the cost of room & board, meals, and materials for the program.
*Explore Engineering (E2) will cost $700 (for one week, in person) or less, depending on the modality.
Are there any financial aid available to help with the cost of the program?
Financial assistance is available to families with need. To receive aid, parents or guardians must provide proof of financial need. We primarily accept IRS Tax Returns for 2020 as proof of financial need. To apply for financial aid, applicants should check off that they wish to be considered for financial aid on the application form and then upload their documents on the application. Make sure any confidential information is redacted on the documents sent!
What is the payment policy?
Payment needs to be made within 2 weeks of receiving your acceptance notice. Payment can be made in the form of a Check, or Money Order (made out to UConn), or Credit Card via our website.
*Please do not submit payment until you have received an acceptance notification.
What is the Refund Policy?
No refund or reduction in program fees will be made for a student who arrives to the program late, leaves the program early, or is dismissed from the program due to violation of the program guidelines. Late withdrawal due to injury or illness will be considered on a case-by-case basis, and will require a note from a physician – if a refund is granted, it may not be processed until programs are over.
Program Structure
What is a typical day?
Students are in departmental activities throughout the day. Meals (breakfast, lunch, and dinner) are provided. During the evenings students will participate in YESS (activities will depend on the major that the student has been assigned).
Are there activities in the evenings?
Yes. In the evenings students participate in Counselor-planned events (such as daily reflections, scavenger hunt, games, painting the rock, etc.)
Being on Campus
What are the housing accommodation?
Participants are assigned to same-gender floors and live in single-occupancy rooms.
Is it possible for me to room with a friend or are we assigned roommates?
Due to COVID-19 safety guidelines, participants will likely be in single-occupancy rooms.
I/my child has food allergies, what food accommodations are available?
A wide variety of food selections is offered daily, including vegan, vegetarian, kosher, and gluten-free options in addition to a salad bar, hot entrees, sandwiches, and desserts. The dining staff is able to accommodate any special needs or restrictions with advance notice.
Can I bring a car to campus?
No, students may not bring a vehicle to campus.
Miscellaneous
Are students allowed to leave at any point during the duration of the program?
No; we want students to gain everything Explore Engineering has to offer. The four days are filled with many learning opportunities and important activities that the students will not want to miss. Absence from parts of the day will prevent the student from getting the full Explore Engineering experience. Please plan accordingly to avoid any conflict with Explore Engineering. Exceptions will not be made.
*Failure to participate in the full program will result in the student's incompletion of the program. Student will not receive their certificate of completion.
What is the mailing address?
University of Connecticut, School of Engineering
Vergnano Institute for Inclusion, EII – Room 320
191 Auditorium Road Unit 3187
Storrs, CT 06269-3187