Fall 2022 Welcome Newsletter
West Hartford high schoolers participate in Sisters in STEM program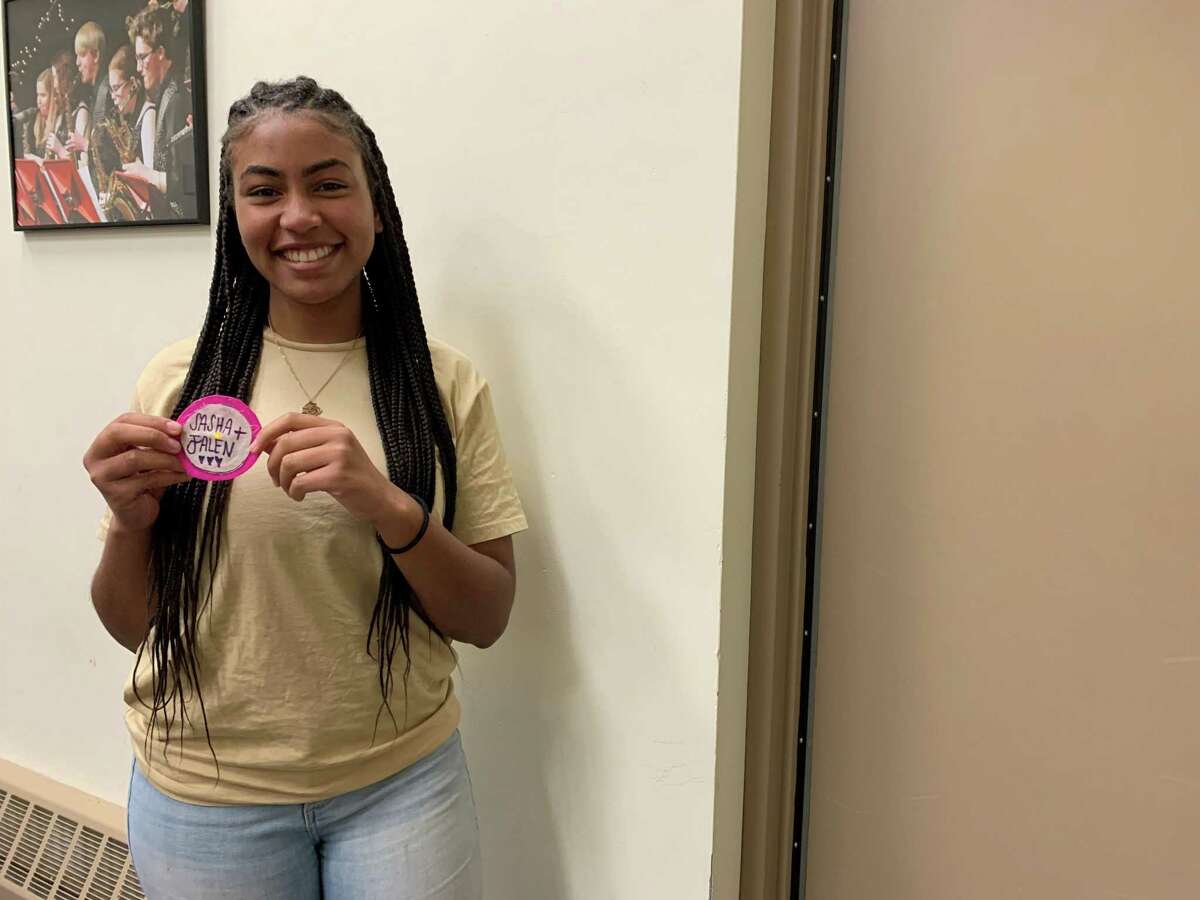 WEST HARTFORD — Students at both high schools recently participated in the University of Connecticut's Sisters in STEM conference, designed to expose more young Black and Latina girls to the field.
Jackie Corricelli, who is a Conard High School math and computer science teacher and the district's computer science curriculum specialist, said there is a very apparent underrepresentation those girls in their programs.
VII April 2022 Newsletter
Engineering Her Best Self
"It's 2022. It's crazy that being a woman in engineering is still such a big deal."
---
It's no surprise that Courtney Luker '22 (ENG) enjoyed Playmobil when she was a kid. Lots of children do. But not too many mention their devotion to this iconic, people-centric, role-playing, let's-build-something-fun collection on their college applications. She did.
A native of Glastonbury, Connecticut, Luker will graduate with a degree in biomedical engineering in May. And yes, her father is an engineer. And yes, her sister Kelly graduated from UConn with a degree in chemical engineering in 2012. Both have been good role models. But Luker's interest in figuring out how things work by taking them apart and putting them back together again was obvious from the time she was a toddler.
She laughs when she describes one of her nascent experiments that involved making a snow sled from cardboard and duct tape she found in the family garage, and then using her creation in an attempt to slide down Buttonball Hill in her hometown. "That experiment," she says with a sigh, "did not go particularly well."
After two years of summer internships with medical device company Medtronic, Luker has accepted a full-time position with the company following graduation. She'll begin a two-year rotational program in their medical surgical department in North Haven, Connecticut. That will be followed by further experience the following year in either Boston or Boulder, Colorado. An avid hiker, she says Boulder sounds enticing. Then again, she considers herself an "East Coast person," so if Boston wins out, that's okay, too.
Luker is part of a growing contingent of women entering the engineering profession. She says she's proud of UConn's commitment to eliminating gender inequality in this field, and also of the fact that women make up 31% of this year's freshmen engineering majors — the highest percentage to date.
She's quick to point out, however, that, "It's 2022. It's crazy that being a woman in engineering is still such a big deal."
As president of the UConn chapter of the Society of Women Engineers (SWE), Luker is intent on paying it forward to honor the upperclassmen who helped her get acclimated when she arrived on campus in the fall of 2018.
"I can't tell you how much I appreciated the women in SWE who mentored me when I was new to UConn," she says. "I asked them all sorts of questions, from what to wear to interviews for internships to advice about courses."
Luker talks about how it felt, in her second year, to be one of only three women in a discussion/lab section of an electrical engineering course. "To be honest, that was intimidating. But with the support and encouragement of junior and senior women, I made it through. That's something I'll never forget."
Now she's intent on mentoring other inquisitive girls and young women who are considering engineering as a career. One way she does that is through Multiply Your Options, which reaches out to 8th-grade girls in local schools, providing demonstrations and hands-on exposure to various engineering disciplines. "With more programs like this we can continue to decrease gender inequality in engineering." Thanks to her experiences with SWE, Luker has been inspired to be what she calls "the best version of myself." To that end, her immediate goal is to become an expert in medical product development, and ultimately share her knowledge with surgeons in hospital settings.
But, she adds with a smile, "I've really enjoyed the management side of being a leader — in SWE — and helping people perform their duties. I'm now actually thinking that an MBA might be in my future, too."
BY SHEILA FORAN '83 (BGS), '96 PH.D.
PHOTO BY PETER MORENUS
Santos Appointed Associate Director of EDOC, Assistant Professor-in-Residence in BME
By: Eli Freund, Editorial Communications Manager, UConn School of Engineering
Last week, Stephany Santos, a recent Ph.D. graduate in Biomedical Engineering, was appointed associate director of the Engineering Diversity and Outreach Center and made an assistant professor-in-residence in the Biomedical Engineering Department.
After nearly 10 years at the University of Connecticut, as an undergraduate and a graduate student, Santos has made her mark, especially in the EDOC, where she helped found Engineering Ambassadors as an undergrad–a group of hundreds of students, who help run prospective student tours, have outreach programs in local schools, and much more.
We recently sat down with Santos, and asked her about her time here, her plans for the future, and her reflections on landing her dream jobs.
What will be your new title, and what responsibilities come with this new job?
I will be an assistant professor-in-residence in Biomedical Engineering, and the associate director of the Engineering Diversity and Outreach Center (EDOC). In these roles, I am excited to impact students on personal and professional levels. I will be teaching several courses, including ENGR 1166 – Foundations in Engineering, and co-teaching ENGR 1000 – Orientation to Engineering. These courses in particular deeply excite me because of how critical students' first years are in developing a positive and robust STEM/Engineering Identity, strong and empathetic team and communication skills, and effective planning and metacognitive understanding.
As the Associate Director, I will be co-advising many of the student organizations (such as NSBE undergraduate and graduate chapters, SHPE, SWE, and EA), and developing and teaching curriculum focused on emotionally intelligent and culturally-conscious team and leadership skills. Additionally, I will help Kevin McLaughlin and Velda Alfred Abney develop workshops and programming that serve and uplift the greater SOE community, and underrepresented students in STEM.  I will continue supporting EDOC Summer programs such as BRIDGE, Explore Engineering and SPARK. Lastly, I will be conducting research in the engineering education realm to further understand our students, their communities and environment, and the impact players in this ecosystem have on each other. I'll be seeking grants and collaborations to support this important work.
You've been at UConn for nearly a decade between undergrad and graduate school. How does it feel to land a job here?
It still feels like I'm in a dream. I remember in elementary school I was tall for my age, so I grew up playing and loving basketball. I looked up to the great Diana Taurasi, Sue Bird, and Swin Cash, and dreamed of playing basketball for UConn. Unfortunately, I stopped growing in 5th grade, and didn't have much of a chance playing power forward at this powerhouse institution. But still, UConn became my home. Fast forward to now, to be honest, I cried when I received my offer letter from UConn. Never have I felt so wanted, supported and uplifted, and I truly thank Dean Kazem Kazerounian and Dean Dan Burkey for not only putting their names in the ring when I entered the academic job market, but for creating this incredible opportunity to be able to stay.
Let's go back to your experience here when you were an undergrad. What were some of the most defining moments during that time, and how do you want to translate those experiences to your new post in EDOC?
There are two events that I'll bring to the table here:
(1)        I remember it was 3 a.m. on a Wednesday sophomore year. We just ordered D.P. Dough and it was set to arrive in 30 minutes. I was hangry. We had been working through a problem set since 8 PM, and I was emotionally done. I was stuck, we were getting nowhere, and I was questioning why I chose engineering. The people I was studying with were some other students that participated in the BRIDGE program at the same time I did, or as I call them, some of my BRIDGE family. We had a quick vent session, picked up each other's pieces, and promised each other that this too shall pass, and we needed to push through. If not for us, but for the culture.
(2)        I visited a middle school at the end of sophomore year with a hands-on activity and a story about how engineers help change the world. I vividly remember one girl, who came up to me after my presentation and said "Miss, so you're an engineer?" I nodded. She said "I want to be an engineer just like you."
These two hallmarks showed me the importance of community and the importance of role models. Community gets us through our darkest hour, and outshines our brightest moments. Through EDOC, I hope to continue to create opportunities for students to build community and find their families away from home. Many of our students are first generation, are 'the only' in their classes, or may not have many other mentors or support systems. I also hope to continue EDOC's mission of letting everyone know they are role models, and mentor up and mentor down. Every individual can have an impact on another person; you never know whose life you can change.
What makes EDOC such a unique and crucial piece to the School of Engineering?
UConn has one of a handful of Diversity, Outreach, or Inclusion Centers dedicated to a School/College of Engineering in the country. When you look at what we've done over the past decade, and what Kevin has done since 2004, we have had a tremendous impact on students through our ever-growing programming. One of the things that makes us unique is how much trust, power, and autonomy we give students. There are not many other universities that would let undergraduate students be fully in charge of nearly every detail for an event that serves hundreds of children and their families in the community. Or, voice their ideas for a brand new large scale event (i.e. Sisters in STEM), and provide support and funding to bring it into fruition. We provide so many opportunities for students to learn different skills and grow, such as through serving as a Pre-Engineering Program (PEP) teacher where you learn to actually develop classroom curriculum, to working in the office where you learn everything from making a Pivot Table in Excel, to maintaining a website. We also provide a suite of courses, such as ENGR 3025 – Engineering for Impact, which is catered to their leadership needs and goals, and ENGR 3020, which is Confidence and Communication Skills. I'm so proud of what EDOC is, and what it will continue to grow to be as we expand programming to reach and support even more students.
You were one of the founders of Engineering Ambassadors here. How have you seen that group grow, and what do you see as the future of that organization now that you'll be focused on them and other programs administered by EDOC?
I went back through my emails recently, and found that our very first EA meeting was September 2, 2010. It is wild to see we are approaching our 10th birthday. In the beginning there were a handful of us that were dedicated to the mission (shout out to Danica Chin [Plaskolite], Kayla Johnson [Pratt & Whitney], Dan Jaramillo [Pratt & Whitney], Nick Clements [Hexcel], Cara Redding [Pratt & Whitney],  Josh Leveillee [Univ. Illinois, Urbana-Champaign] Dave Golfin [Pratt & Whitney], Alex Brittain [Global Foundries], Kim Sayre [US Government], Kim Reindl [Collins Aerospace], and many others) , now we have over 200 students who are in new branches called Presentation Team (which primarily focuses on off-campus interactions with middle school students), Tour Guides (which primarily focuses on on-campus, personalized experiences with high school students and their families), and Greater Body (which supports on-campus activities, and programming such as STEM Night at the CT Science Center, and Engineers Week at the Storrs Campus). We've recently even initiated expanding Engineering Ambassadors, or STEM Ambassadors at the Stamford and Avery Point campuses to better serve and reach CT schools in those areas.
Looking forward, I am excited to collaborate more with PK-12 teachers, the Neag School of Education, and CETL to create an ecosystem of teaching, learning and mentoring. We'd love to be able to train ambassadors to understand Next Generation Science Standards (NGSS) so that we can work with educators to better design activities, presentations and conversations around what kids are currently learning in school. We'd also love to provide a community of practice for PK-12 teachers around the state so that teachers feel appreciated and supported, and know how they can support and help their students go to college, and become future STEM studiers and STEMinists.
Why do you think you've stayed at UConn so long? What is it about this University and School that makes you so invested?
When I needed someone to turn to, there were people that not only answered my questions, but took me under their wing to help me to fly. There are amazing, selfless individuals such as Aida Ghiaei and Kevin McLaughlin who invest their entire souls for students to stand up and shine. Everyone deserves that mentor and advocate, and I'd like to stand alongside them to be that person for others. At UConn, you're not a number, and if you volunteer your time to help, UConn will always have your back and reward you. I had no issues finding funding for my Masters or my PhD because of the support at UConn, and even now, seeing that the UConn School of Engineering still hired me in the middle of a pandemic while other universities are furloughing their staff, rescinding offers, and freezing hiring, shows UConn's values and commitment to me, and to others they care about.
Of course UConn has areas for growth, particularly in the diversity, equity, and inclusion space, but I see avenues for change that I can be a part of, and I can't say that about everywhere else. I'm excited by the leadership of Dean Kazerounian and Dean Burkey, and their investment in programs and courses I've helped pitch such as the John Lof Leadership Academy for Graduate Students, or the BOSS LADI (Building our Sister's Strength – Leveraging Adversity, Diversity, and Intellect) class for underrepresented women in STEM. UConn loves, and UConn loves hard.
Has it always been your dream to be a professor and mentor to engineering students who are underrepresented minorities? Why? What was your inspiration?
As an undergrad, after a few years of volunteering for events like Multiply Your Options (MYO) and for NSBE and EA, I realized I loved teaching. Senior year, I wasn't sure exactly what I wanted to do, so I applied for Graduate School, Teach for America, and positions in industry. I was accepted to Teach for America, and was set to be a science teacher in Newark, NJ. Shortly after, I was accepted to be an EAGLES Fellow, which was a dual degree M.S. program in Italy and at UConn. I was incredibly torn, because I was excited to teach the kids, but I was also thrilled to be accepted to get an M.S. in Italy. I turned to then Dean Mun Choi who gave me one of the greatest pieces of advice I've ever heard, "The more you learn, the more you can teach others." That advice kicked off my graduate school career, as well as fueled my interests in engineering education. Now, as I've been sharing my career plans with some of my current undergraduate mentees, I saw their eyes light up when I say I wanted to be a professor. Many expressed excitement to have a professor "like me," which can mean a lot of things from identity (Afro-Latina, child of immigrants), to one deeply invested in individual success and well-being. I love using #ILookLikeAnEngineer or #ILookLikeAProfessor because I am breaking stigmas and stereotypes that exist in these domains, and showing students they can be one too.
Now that you've landed your dream job, what do you hope to accomplish here at the School of Engineering?
Many of my aims come from a coalition of alumni who care (some I listed before), my mentees, and my mentors. I touched on many of my aims throughout this interview, but to summarize:
Collaborate with Dean Burkey, Dean Leslie Shor, Dean Kazerounian and others to include teamwork and communication skills in undergraduate and graduate courses to minimize incidents such as microaggressions, and maximize belongingness, effectiveness, and productivity.
Use evidence-based research to both assess and improve our current diversity, equity, inclusion and outreach efforts.
Coordinate with other talented folx at EDOC (shout out to Esther Chang) to develop a suite of workshops, programs, courses, and trainings that uplift, inspire, and push forward individuals spanning the gamut of PK-12 students, PK-12 teachers and guidance counselors, undergraduates, graduates, staff, and faculty.
Many people say they want life to return back to 'normal' after COVID-19. I've seen others say 'normal' is not an option, because it includes systemic inequities in our health care, in our education, and in our access to basic needs. I agree, 'normal' is not an option, only forward, where empathy, communication, and progress are at the core of all we are, and all we do.
UConn Recognized as a Leader in Educating Women Engineers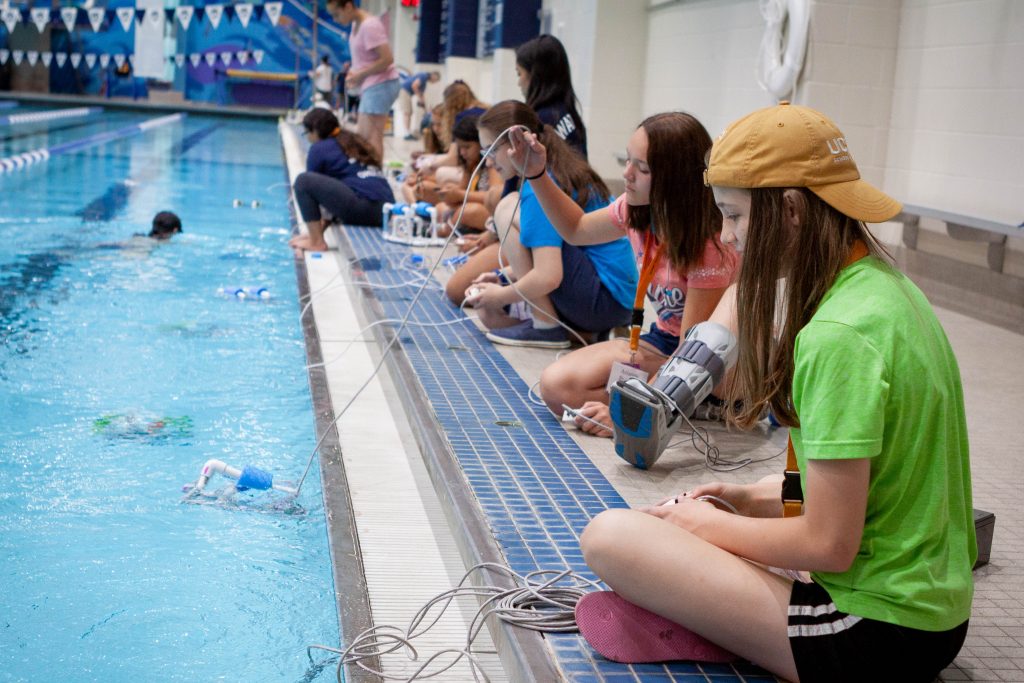 The University of Connecticut School of Engineering has once again been recognized as a leader in the nation for fostering diversity and inclusion among its student and faculty population, according to a new "Top 20 Universities" list released by Woman Engineer magazine.
The list, which includes schools such as Carnegie Mellon, Massachusetts Institute of Technology, Columbia University, and Princeton University, was determined by a survey of their 135,205 women engineering student and professional subscribers.
According to the editors, readers based the selection on criteria such as the diversity of the student base and faculty, the diversity of the curriculum, and the schools' ability to foster a diverse and inclusive learning environment.
This honor adds to the school's recognized work toward gender equity and diversity in an engineering industry which has struggled with recruiting and retaining underrepresented minorities.
As part of the growing recognition for UConn, The Washington Post published a survey that documented Connecticut's flagship was the top public institution in the U.S. for growth in female undergraduates from 2010 to 2015.
On the faculty side, since fall 2017, over 40% of the school's new hires have been female, and nearly 20% of the school's tenure and tenure-track faculty and 38% of the assistant professor-in-residence faculty are female, both above the national average.
UConn's School of Engineering, through the work of the Engineering Diversity and Outreach Center led by Kevin McLaughlin, has built a pipeline of underrepresented minorities students into the school.
Programs include BRIDGE, a five-week intensive summer program designed to prepare students who are underrepresented minorities to smoothly transition into UConn's engineering curriculum. Others, such as SPARK,  seek to mentor and encourage females to enter the STEM fields through overnight summer camps.
Come Explore Engineering at the UConn School of Engineering This Summer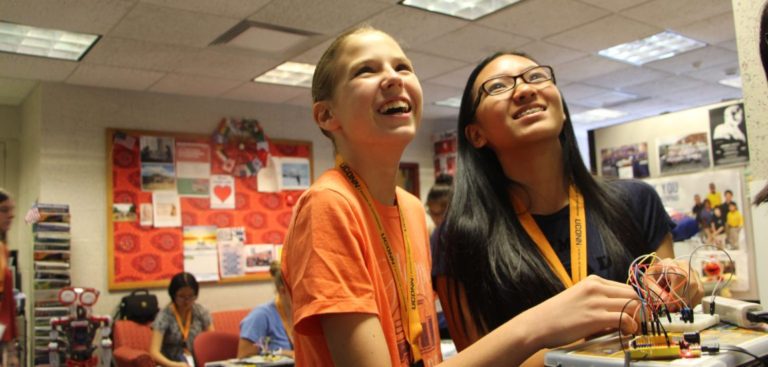 By: Eli Freund, Editorial Communications Manager, UConn School of Engineering 
Throughout the summer, students in middle school and high school will get the unique chance to immerse themselves in the world of engineering through two interactive programs: Spark and Explore Engineering.
Explore Engineering, a five-day program for students currently in 10thand 11thgrade, allows participants to reside on campus, gives the students a glimpse into what engineers do in the workplace, and introduces them to key engineering concepts. During the evenings, through the YESS Program, students focus on a single engineering discipline by fabricating a discipline-specific device. The week wraps up with demonstrations of items the students created during the week. Examples have included: rudimentary EKG devices, Smart Lego vehicles that can follow a trail, fuel cell and other energy efficient devices, wooden bridges, environmentally friendly processes, and how to resolve differences.
When students are attending departmental activities during the day, they will be participating in both lecture and hands-on experiment-based activities run by the department's professors andgraduate assistants. Throughout the day, students will also learn from constant interactions with their counselor, who is a current UConn Engineering undergraduate.
Spots for this camp are filling up fast, but interested parties have until June 10 to claim their spot in either the session from June 16-June 20 or June 23-June 27. To apply for financial aid, applicants should check off that they wish to be considered for financial aid on the application form and then email the documents to engr-explore@uconn.edu (make sure any confidential information is redacted on the documents sent). For more information, or to reserve your spot, please visit: http://edoc.engr.uconn.edu/explore-engineering/.
SPARK, a six-day program for  7th-10thgrade girls, also allows participants to reside on campus, immerses them in specific engineering disciplines, such as coding and robotics, and pairs them with female undergraduate mentors, who provide a positive influence on their future career path as an engineer.
During the day, all of the participants will work on various projects, and during the night, the students will participate in fun activities like movie nights, trips to the Dairy Bar, and an interactive STEM night.
Each week during the four sessions has a different theme, and they are as follows:
Coding (July 7 – 13): Design apps, make circuits, and learn to apply programming to control the world around you
Underwater Robotics (July 14 – 20): Explore mechanics while building and testing an underwater remotely operated vehicle (ROV)
Designing and Flying Drones (July 21 – 27): Apply principals of material science, 3D printing, and chemistry to make a drone fly
Engineering Through the Ages (July 28 – August 3): Explore the past and present while building a more sustainable city for the future
The deadline for enrollment is June 17, and applicants must be a current 6th – 9th grade female student during the 2018 – 2019 school year.  Applicants who are not in the grade range but are interested in the program are encouraged to apply to be placed on the waiting list. To apply for financial aid, applicants should check off that they wish to be considered for financial aid on the application form and then email the documents to engr-explore@uconn.edu (make sure any confidential information is redacted on the documents sent). For more information, or to reserve your spot, please visit: http://edoc.engr.uconn.edu/spark/.
New SPARK Program Brings STEM Education to Young Women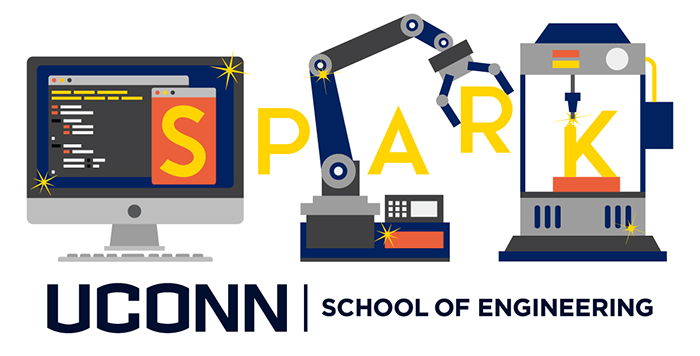 UConn Engineering's new SPARK Program gives young women in middle school and high school access to week long learning programs that focus on different engineering disciplines. This is the latest effort by the Engineering Diversity and Outreach Center to help UConn bridge the gender gap in the STEM fields and make more young women interested in science fields. Learn more about the program here.
Each week's curriculum will focus on a different engineering discipline:
Coding (July 9 – 15): learn the basics of coding and its real-world applications using Arduino
Robotics (July 16 – 22): learn how to build an underwater remotely operated vehicle (ROV) and miniature robot
3D Printing (July 23 – 29): learn how to use scanning devices and to input variables into the 3D printer to print solids
Coding Week (July 9-15):
While many assume coding is computer science (and it certainly is), coding is also extremely important in many other fields including biomedical, chemical, civil, electrical, environmental, electrical, material science, and mechanical engineering. This program will introduce students to coding using an Arduino kit. Female engineering mentors will instruct students in how to program the Arduino board. Students will learn how to use its sensors to run different outputs while building a variety of devices. We will also build a Bluetooth device that can be used across the internet to control lights and other devices. Each student will receive her own kit which she can take home.
Robotics Week (July 16-22):
This week is designed to introduce students to the world of robotics. Students will spend half the week building an underwater remotely operated vehicle (ROV) and the other half of the week building a miniature robot. Using VexIQ kits, students will work in teams to design, build, and problem solve to create with a robot that can compete in fun and informal competitions. This program is very hands-on and one of our main goals is to teach students how to use different tools and techniques. Each student will be able to take home the ROV she built.
3-D Printing Week (July 23-29):
This week is dedicated to introducing students to 3D printing or additive manufacturing. Students will go through all steps required to learn how to 3D print, as well as build a 3D printer. Students will learn how to use scanning devices and how to input variables into the 3D printer to print solids. Students will also work with 3D modeling software to learn how design and prototyping are used in additive manufacturing.
BRIDGE Program: 25 Years of Success
"I have reaped the benefits of attending BRIDGE. When I walk in to work, I'm not just another engineer. I have years of leadership skills that have stemmed from BRIDGE.  It helped me.  It helped us, on the journey to becoming engineers. BRIDGE opened up so many opportunities for me, and I'm grateful for all of them."
Melissa Jacques
B.S. Mechanical Engineering and Materials Science & Engineering, 2010
On March 21, the School of Engineering celebrated the 25th anniversary of the BRIDGE Program, an intensive, residential summer preparedness program for entering freshmen from populations traditionally underrepresented in engineering, who have been admitted for the fall term.  Before an audience of more than 100 accomplished BRIDGE alumni, industry friends and administrators, five BRIDGE alumni and others shared their memories of this pivotal program and its extraordinary impact on their educational and career accomplishments.
Dean of Engineering Mun Y. Choi welcomed attendees and recognized members of the audience representing Travelers, General Electric and Pratt & Whitney, who provide valuable sponsorship for the BRIDGE Program.  Praising the program, he spoke of the passion and high level of achievement that characterize members of the BRIDGE community, from the students and alumni to the program administrators.  He remarked that he is eager to expand the program to increase the number of underrepresented students who can benefit from the experience.  Dean Choi then introduced ceremonial host and alumnus Tilton L. Hughes (B.S. Mechanical Eng., '73), who attended UConn at a time when few minority students were enrolled and who built a distinguished career with IBM.  Hughes, who had traveled to Storrs from Austin, TX with his wife Gloria, was accompanied by his mother, Virgie Hughes and six other members of his family who live in Bridgeport, CT.
Hughes shared memories of his years as a UConn engineering student, touched upon his career journey with GE and IBM, and offered today's students advice on how to achieve success.  Among the points he emphasized was, "Know yourself."
Hughes said "Just because you grew up in a certain neighborhood doesn't mean you're not capable of doing great things. All of us are capable of doing great things. We have to believe in ourselves and know that no matter what obstacles, we're capable of achieving.  When I look across this room, I see greatness.  I see people who are going to do great things.  I see that somewhere in this room is the next great idea."
Another core message Hughes shared is that "Believing in yourself isn't enough. It doesn't get the task done. You need to be disciplined, have excellent time management skills and develop self-control." He urged students to focus on their studies, not partying, during their years at UConn.
Hughes observed that across a 40-year career, it is important to be flexible.  He remarked that when he graduated from UConn, GE offered him a job.  It required that he complete a rigorous rotational training program in different locations and plants.  "Well, when I got up to Schenectady, NY there was 39 inches of snow on the ground. And I said to myself, 'Is this really some place I want to go?'  I thought: How bad could it be? It's just a two-year assignment." He accepted the assignment and lived in snowy Schenectady before being transferred to the nuclear energy division in sunny San Jose.  He later joined IBM, which, he noted, "Gave me the opportunity to travel throughout the world. Keep your mind open for opportunities."
Continuing with his advice to students, Hughes named teamwork, networking and giving back as critical keys to success. "Must learn to work well with others, don't underestimate the leverage of the team. Help your fellow BRIDGE members, volunteer, mentor, and tutor. No one gets it done on their own!"
Reflecting on his 10 years with the BRIDGE Program, Engineering Diversity Director Kevin McLaughlin spoke emotionally of the impact the program has had on underrepresented students.  "It's been a remarkable 10 years for me. Before I got involved with BRIDGE, I thought it was a fantastic idea.  But it was through being with the students, teachers, and all of us that help the BRIDGE program that I began to see its transformative nature."
"I'm extremely proud of BRIDGE students, for some pretty obvious reasons," he said, noting that the graduation rate of BRIDGE participants underscores the success of this student cohort.  For students who engaged in BRIDGE in 2006, he said, the graduation rate was 80 percent; for students who participated in BRIDGE in 2007, the graduation rate had improved to an astounding 92 percent.  McLaughlin also noted the outstanding volunteerism and leadership of the BRIDGE students, which has contributed to the success of many School of Engineering outreach activities as well as the student body.
Testaments
Five current students and alumni who participated in BRIDGE shared their insights about the impact of the program. Each described a deep relationship with the program that began the summer before the freshman year and continued as the students became tutors, teachers, mentors and even scholarship donors.
Atinuke "Tina" Oyeniya, who attended BRIDGE in 2006, was introduced by her brother, BRIDGE '08 graduate Sunday Oyeniya, who will graduate in May with his B.S. in Mechanical Engineering. Tina Oyeniya (B.S. Civil Eng. '10) works as a project engineer with Hamilton Sundstrand and is pursuing her MBA at UConn.  Initially, she said, she was unenthusiastic about spending much of her summer on campus. "I got a letter telling me I had to attend BRIDGE.  I was very upset, because I already had a paying internship lined up that summer. I called Kevin [McLaughlin] and proceeded to tell him that I could make it through the degree program without BRIDGE. After 15 minutes, he convinced me that I had to participate, and he was right. The BRIDGE experience was wonderful. The first week of challenges included things like building bridges, building robots… doing things I never thought possible. We learned that with teamwork, we could achieve anything."
Like most BRIDGE alumni, Oyeniya remained closely involved in the program throughout her undergraduate years, but she decided that wasn't enough.  "That summer after I graduated from college, I thought, 'What was important to me?' It was BRIDGE, which helped me accomplish a lot. And I thought, 'I'm supposed to give back.' So I started a scholarship. And every summer the Oyeniya Scholarship is given to one student" enrolled in the BRIDGE Program.  She also contributes her time with a new program, ManyMentors, aimed at helping underserved students to excel and realize their dreams.
BRIDGE '07 graduate Gustavo K. Contreras (B.S. '11) who earned dual degrees in Electrical Engineering and in Computer Engineering, also spoke of his experience. Contreras is currently pursuing a Ph.D. in Computer Science & Engineering.  During his undergraduate years, he was deeply involved in several engineering societies and served as president of the Society of Hispanic Professional Engineers. He also participated in the Honors Program and received scholarships while pursuing his degrees.
"The reason so many BRIDGE students lead the student societies is due to the influence that BRIDGE has had on us. BRIDGE is not a leadership camp, but it pushes us to make a contribution to the societies," he remarked, adding "BRIDGE is about making yourself better, it's about taking control of your life, taking control of the challenges." (Read more about Contreras here and here.)
Melissa Jacques (read 2008 profile), a 2010 graduate (Mechanical Eng. and Materials Science & Eng.), was a lightning rod for charitable activities during her years with the UConn chapter of the National Society of Black Engineers (NSBE).  She was an advisor, former chapter president, and founder of the society's annual Thanksgiving Food Drive and Basket Delivery event. As a senior, she was selected the Outstanding Senior Woman for the School of Engineering.
Reflecting on the importance of the program, she said "BRIDGE brings hope to those minority students who are determined to further their education at UConn. There are many things about college that can be confusing, such as being away from home, making new friends, not knowing what to expect in the working world. However, as a BRIDGE student, I had the edge.  I knew first-hand what the work load was like. I knew my campus, I had BRIDGE study partners, textbooks for my freshman year, and I had an extended family that cheered me on:  the Engineering office staff and my fellow BRIDGE mates. For me, BRIDGE was a blessing. It was a gift; a major catalyst that influenced my goals in life."
She continued, "What I remember most about BRIDGE was that encouraging feeling of looking across the classroom during Chem class – Kevin was teaching the class – and seeing all my fellow BRIDGE mates working together towards the joint goal of becoming engineers. Some of them will be the first in their families, not just to become an engineer, but to obtain a college degree…We all had the same passion.  We encouraged each other, built each other up during those trying times. I would not be where I am today without the support that I received from my fellow BRIDGE students. With the hope that BRIDGE gave me, I held my head high as I walked across the stage on commencement day."
The next speaker was Lyndon Charles, Jr. (B.S. '06), who attended BRIDGE in 2001. After earning his degree in Biomedical Engineering, Charles completed a master's degree in Materials Science & Engineering and then began doctoral studies in Biomedical Sciences at the UConn Health Center involving the biomedical aspects of bone regeneration.
He said, "BRIDGE dramatically increases the chances of students who may typically become discouraged and might not otherwise finish the engineering degree program.  And it does so by a little acronym I would like to introduce, CPR: Community, Preparation and Responsibility."
CPR, he explained, sets the stage for students "not to fail, for you to continue, persevere, and gain a degree in engineering." Charles spoke of the supportive community associated with the BRIDGE Program, from Assistant Dean for Undergraduate Education & Diversity Marty Wood and McLaughlin to the support staff, BRIDGE tutors and fellow students.  "In terms of preparation, BRIDGE is a grueling program," he said, adding, "For me personally, I don't know what would have happened to my career in the School of Engineering if I had walked into C++ my first year without the preparation of BRIDGE. Coming from the Caribbean [where his high school installed computers just his senior year] I had no exposure to computing."
Returning to his CPR theme, Charles said, "BRIDGE gives you a sense of responsibility. Not just for yourself and your academic excellence. It gives you a sense of responsibility in the sense of being your brothers' and sisters' keeper." He concluded "This is something that will stick with you, stick with us, for life.  At the end of my college career, I realize that BRIDGE was the single most important event helping me to succeed."
Power to Inspire
The final speaker was senior Stephany Santos, who will receive her B.S. in Biomedical Engineering in May and then continue her studies at Milan Polytechnic, in Italy before returning to UConn to pursue her Ph.D.  Santos has been a dedicated contributor to the BRIDGE Program: she has tutored students in chemistry and computer programming, served as a BRIDGE residence hall director, supervised a corps of tutors, and taught the MATLAB programming class.  She has also served as co-president of the UConn Engineering Ambassadors.  Like Oyeniya, Santos felt compelled to help other students who have followed her in the BRIDGE Program: in 2010, she and two friends pooled their summer earnings to support a $2,000 scholarship for a needy student.
Inspired by her BRIDGE experience and the singular community at UConn, Santos chose to express her sentiments in verse.  Her original poem appears below.
Engineers are not supposed to be good with words…
Dazed, lost, and blindsightedly concerned,
With their research, projects, and dissertations,
Calling for countless hours of dedication,
Only to be inundated with too much information,To the point just before being deemed absurd…
And from what I heard…
Engineers are supposed to be driven by design
The desire to perfect an already straight line
Only to say "I was able to redefine"
Orthodox into indispensable and top of the line
Revolutionizing a new era for the entire world.
Yet here I am, trying to break the mold
Verbose, eloquent, and unforetold
An engineer with dreams and plans to unfold
All because in my past someone once told
Me.
That I was only a woman.
Destined for six things like an unlucky omen.
The first is that I was to be passive and supine,
Knowing my place in the shadows behind.
I was told never to laugh loudly to make people look my way,
And never to initiate a head-turning parley,
Because that's not what women are supposed to do
So it was in my best interest not to stray from view
Someone once told me I was only a woman,
Destined to become my second omen
To mature into a mother, nurturing and proud
Level-minded and stern, and never without
An answer or suggestion; a superwoman at best
Never enough hours to allow her to rest
A doctor, a teacher, or a nurse for a career
But never to become an engineer…
Today I stand, three years ensuing
Fighting the battle and still pursuing
To be against all odds and follow my heart
And be a productive member of society, doing my part.
I wouldn't be here though, if it weren't for one man
Kevin McLaughlin and the rest of the BRIDGE clan
These were the people that believed in me
And became my unofficial UConn family
Staying up late we were each other's inspiration
When times were rough we were our own motivation
Because when the people around you share that passion and pride
It's no wonder we all work hard to grow and strive
I am no longer the girl I was in 2008
Shy, and in the shadows, but happy as I wait..ed
For the world to be handed to me, doors to open, and opportunities to unfold
And they did, but it wasn't until this program that I learned to be bold
I learned about working alongside others, but most importantly
I learned about the characteristics that define me as me
I will not be labeled a minority, or a woman, or even an engineer
I am simply a person whose dreams have become clear
I want to change the world one step at a time
And it was this program, BRIDGE, that's allowed me to shine
~ Stephany Santos (B.S. '12)
BRIDGE Program to Celebrate 25 Years
The UConn School of Engineering is celebrating the 25th anniversary of the impactful BRIDGE Program with a special reception on Wednesday, March 21, 2012 at UConn.
The reception will begin at 5:30 p.m. in the South Reading Room of the University's iconic gold-domed Wilbur Cross Building.  Ceremonial host Tilton L. Hughes (Mechanical Engineering '73), who built a distinguished career with IBM, along with School of Engineering administrators and faculty, will welcome attendees at 6:30 p.m.
BRIDGE alumni, industry friends and others are invited to help us celebrate, network and chat with former classmates.  Please RSVP.
The BRIDGE Program arose from the School of Engineering's desire to enhance the diversity of its undergraduate population.  BRIDGE is an intensive, residential summer preparedness program for students from populations traditionally underrepresented in engineering who have been admitted for the fall term.  The program is reserved for female, African American, Hispanic, Puerto Rican and Native American students.
During the five-week program, students complete coursework in mathematics, chemistry, physics and computer programming; participate in study skills workshops and structured group study sessions; visit School of Engineering facilities and labs; tour companies and industrial operations; and engage in career building seminars.  An important component of BRIDGE is the opportunity afforded participants to build a sense of community even before they begin classes in the fall, through the rigorous academic coursework and various social, community, recreational and cultural activities. Students also meet with peer mentors and role models while exploring the variety of career opportunities within engineering.
Approximately 45 students participate each summer, and those who successfully complete the BRIDGE Program are eligible for scholarship awards during their undergraduate engineering program.
In recent years, along with the state, UConn has experienced budget cuts to its academic programs that reduce the support we can offer BRIDGE participants throughout the summer program. To ensure that students from economically disadvantaged families may continue to take advantage of this important preparatory program, we invite our corporate friends and alumni to invest in BRIDGE.
To contribute, please contact Don Swinton (860- 486-8923) or Kylene Perras (860-486-8822).