Patriots Cheerleader speaks at UConn's Annual Black Women in STEM Brunch
Akosua Adzenyah discussed representation, setting high goals, and balancing her jobs as a dentist and New England Patriots Cheerleader at her alma mater on Saturday.
Feb 27, 2023 at 10:00 AM
Alexandra Francisco
Patriots.com writer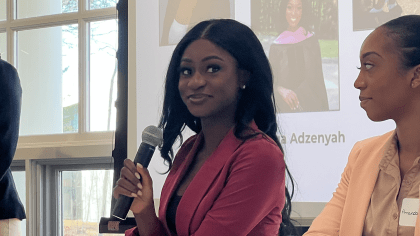 Whether she realized it or not growing up, representation mattered to Akosua Adzenyah when she set out to pursue a career in STEM.
As a first-generation American, an example was set by her parents, who immigrated from Ghana and worked as a civil engineer and psychiatric nurse practitioner in the United States to provide a life for her and her two younger siblings.
Fresh off her rookie season with the New England Patriots Cheerleaders, and in her third year as a dentist, Adzenyah paid it forward this week.
"It's Black History Month, and it's just so important to see people who look like you shine while doing what you want to do," she said. "Because then you feel like you can too."
After graduating from dental school at the University of Connecticut in 2020, Adzenyah was invited back to campus to speak on a panel at the 4th Annual Black Women in STEM Brunch last week.
Hosted by UConn's chapter of the National Society of Black Engineers to bring women of color together and encourage their goals, Adzenyah's story brought a lot to the event.
With her mom and dad serving as a practical model of how to take chances and make things work, and a brother and sister looking up to her, she says she was always a diligent student who naturally excelled in math and science curriculum.
In her freshman year of college at Fairfield University, she realized she wanted to be a dentist.
"I chose dentistry because I wanted a career in healthcare where I could do something different each day," Adzenyah explained. "Or rather, something different each hour of the day. I really liked that as a dentist, I'm able to see my patients at least once every six months and I can foster a meaningful relationship with them throughout the course of their lifetime. I love how I'm able to combine my love for math and science with my love for art. Not a lot of people know this, but there are many systemic diseases that actually have a direct correlation to oral health, and so by educating my patients on the importance of oral hygiene, I can help to alleviate health disparities in my surrounding communities."
She sees a lot of parallels between her two roles as a dentist and cheerleader. But with her sights set on both goals, it was one thing at a time.
"Becoming a Patriots cheerleader is something that I've always felt like I wanted to do, but it was never the right time with school," she said. "I knew I wanted to finish school before trying out because it just would have been too much to juggle for me personally.
"I feel like this is the perfect time. Not only because I'm done with all my school and I can focus on it, but everything I've learned in school and in practice can help me be the best representative of the Patriots organization."
In balancing both of Adzenyah's jobs, and last Saturday in Storrs, she hopes sharing her journey will show girls and women who look like her that you don't have to limit yourself. Also, that it will uplift other Black women looking to get into STEM careers.
"Black women, especially in STEM careers, are so underrepresented," Adzenyah said.
"I hope talking to the college students will show them that everyone has a different path, and it's not always going to be easy but you have to keep the faith, have the right people around you for motivation, and work hard."